Energy Efficiency project in Lutsk: measures implemented for over 30 public buildings
Date : 19-10-2021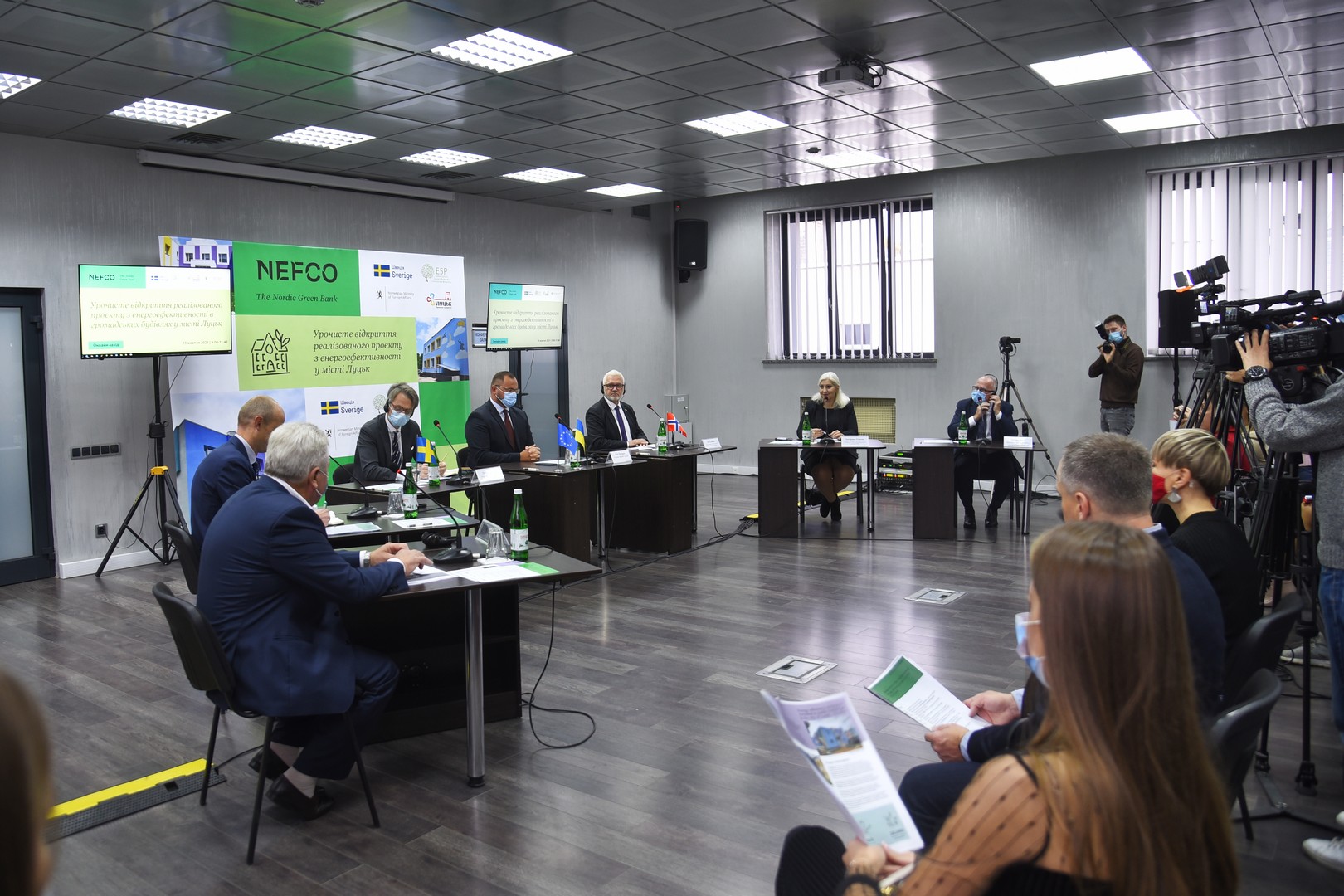 Inauguration Event hosted by the municipality of Lutsk city aiming to mark completion of the implemented by NEFCO project: Energy Efficiency in Public Buildings in the city of Lutsk took place on 19 October 2021.
The total project investment is EUR 9.5 million (approx. UAH 295 million). This includes EUR 5 million (approx. UAH 156 million) loan financing from Nefco's, E5P grant of EUR 1.3 million (approx. UAH 41 million), and bilateral support for technical assistance from Sweden amounting to EUR 0.4 million (approx. UAH 12.2 million). Own contribution from the city itself makes EUR 2.8 million (approx. UAH 85.3 million).
Expected benefits of the project are:
• annual reduction of heat consumption over 11,000 MWh;
• annual reduction of electricity consumption by 600 MWh;
• reduction of CO2 emissions into the atmosphere by 4300 tons per year;
• energy savings of the city up to UAH 17 million annually.
By now implementation of the project has helped to create safe and comfortable learning environment for over 26,000 students and teachers in the city.
The Inauguration Event was in person attended by Mr Ihor Polishchuk, Lutsk city Mayor; Mr Tobias Thyberg, Ambassador of Sweden in Ukraine; Mr Erik Svedahl, Ambassador of Norway in Ukraine, Mr Amund Beitnes, Investment Director at Nefco; Kateryna Stasiuk, E5P Principal Manager; Mr Leonid Karaban, Head of Construction Department of Lutsk municipality; and Mr Gunnar Bark, Team Leader of the PIU support, Consultant at SWECO. Other distinguished guests included representatives of Sweden's government agency for development cooperation (Sida); Lutsk municipality, direct project beneficiaries representing schools and kindergartens where EE measures have been introduced.
During the event, Mr Ihor Polishchuk, Lutsk city Mayor awarded all the project co-financers and implementers with the certificates of appreciation in recognition to the generous contribution for better environment and welfare of Lutsk citizens.